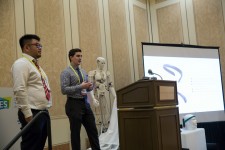 BrainCo, a startup developing BMI technology, launches its wearables Focus 1 and Lucy at CES 2017.
Las Vegas, NV, January 12, 2017 (Newswire.com) - BrainCo, a Boston-based tech startup which specializes in BMI wearables to help people improve focus and enhance productivity, held a press conference themed "The future of BMI: Redefining education, attention training, and smart home applications" on January 5, 2017 during CES 2017 to launch its products Focus 1 and Lucy. BrainCo has started to take pre-orders on its website.
BrainCo presented two products: Lucy and Focus 1. Lucy can detect a user's brain signals and convert them to control different electronic devices (including toys, smart home appliances and robotic devices). Lucy not only provides a new way of interacting with your environment, but also makes people's daily lives more adventurous, enjoyable, and efficient.                
Focus 1 has two versions: Focus EDU and Focus FAMILY. Focus EDU is the world's first real-time attention tracking system for classrooms, enabling teachers to quantitatively understand students' engagement levels. Teachers and administrators can use attention level reports to adjust teaching methodology to improve educational outcomes. Focus FAMILY is a home-based training device that can monitor, visualize and analyze brain activity. Combined with a mobile app game Focus Oasis, it can help improve people's focus levels and working efficiency through neurofeedback training.
"We're excited to debut our latest products at CES 2017 because it's such a great platform to network with potential partners and future customers," said BrainCo Founder and CEO, Bicheng Han. "Last year, we brought our prototype to demonstrate the latest brain-controlled technology; this year, we are taking one step further and aim to redefine education."
For more information regarding BrainCo, Focus 1, and Lucy, please visit BrainCo.Tech today.
About BrainCo
BrainCo, a Boston-based tech startup, was founded in February of 2015 and incubated in the Harvard Innovation Lab. BrainCo specializes in BMI (brain machine interface) wearables to help people improve focus and enhance productivity through a scientifically-proven method called neurofeedback training. Currently BrainCo has 25 full time team members, and has raised $5.5 million funding in the past few months.
Contact
Bicheng Han, Founder and CEO
120 Beacon Street, Suite 201, Somerville, MA 02143
Email: bicheng.han@brainco.tech​
http://www.brainco.tech
http://facebook.com/braincotech
Source: BrainCo
Share: