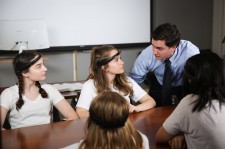 With BrainCo's headset Focus 1, you can play the game "Focus Oasis" and earn a real-world reward: noticeable brain improvement.
Cambridge, MA, December 20, 2016 (Newswire.com) - BrainCo, a startup striving to apply Brain Machine Interface (BMI) and neurofeedback training in day-to-day life, is developing a game called Focus Oasis. Focus Oasis is both entertaining and educational, as it enables players to get a real reward: more focused brain function. BrainCo will launch Focus 1 at CES 2017.
Focus 1 is a wearable device that can monitor, visualize and analyze brainwaves. It draws inspiration and techniques from neurofeedback training algorithms. BrainCo's training algorithms are based on decades of research showing the potential of neurofeedback to improve attention abilities. This method improves an individual's everyday focus level by training specific brainwave frequencies. By detecting electrical signals in the brain, Focus 1 is able to display real-time brain activity and utilize that data to help regulate brain function.
Brain-controlled game: Fun to play for kids
The Focus Oasis game is designed for kids aged 5 to 18. It allows users to train their brain with positive feedback in real-time, at their own pace. The game is designed to inspire a sense of ownership and control over their own training. Players can walk around the idyllic oasis and interact with a cast of characters, helping them to catch fish, grow flowers, build robots, sing, and anything else that might help the oasis to grow and improve. Meanwhile, they are also constantly improving their own focus and attention skills.
Visualize brain activity: Easy to track for parents
Focus 1 integrates advanced hardware, software and algorithms that were developed by scientists from Harvard Center for Brain Science and Harvard Graduate School of Education. Parents can easily track their kids' improvement from the paired training app, which can present real-time brain waves and an attention level index. Attention level reports can give parents an in-depth analysis of their children's progress in the game.  
"BrainCo always aims to utilize technology to improve people's day-to-day lives," said BrainCo Founder and CEO, Bicheng Han. "Brain improvement has never been so fun and simple: focus on the game, and you get an instant reward for your brain. We've found a way to capitalize on kids' love for video games as well as parents' desire to help their kids succeed by creating a game that may actually improve attention related abilities."
For more information regarding BrainCo, Focus 1 and Focus Oasis, please visit BrainCo.Tech today.
About BrainCo
BrainCo was founded in February of 2015 and incubated from the Harvard Innovation Lab. The company develops portable, wireless BMI wearables, which help improve people's focus level and working efficiency through neurofeedback training. BrainCo will launch their product, Focus 1, at CES 2017.
Contact
Bicheng Han, Founder and CEO
120 Beacon Street, Suite 201, Somerville, MA 02143
Email: bicheng.han@brainco.tech
http://www.brainco.tech
http://facebook.com/braincotech
Source: BrainCo
Share: